New Investment Planned as Parkside Care Acquires Morpeth Care Home
New investment is being planned for a Northumberland care home after a family-owned North East firm acquired it from its long-term owner.
Parkside Care has added the Northlands Care Home in Morpeth to its portfolio of properties, which also includes facilities in Sunderland, Gateshead and North Shields.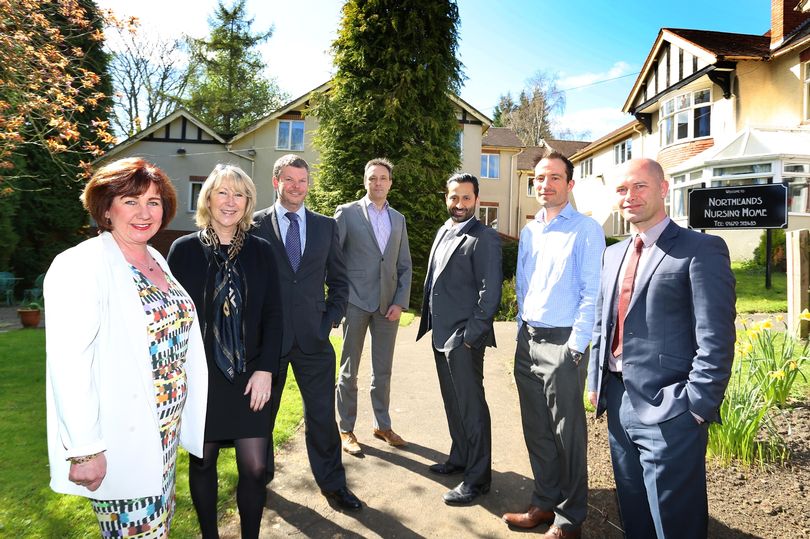 From left to right: Jill Lax of the Autumncare Group, Maxine Pott and Matthew Flinders of RMT Accountants, Christopher Welch and Alok Loomba of Sintons, Parkside Care's Andrew Kerr and Darrell Franciosy of Natwest

The 35-bed home has been bought from owner Jill Lax, who had run it since 1995 as part of the Autumncare Group Ltd, who had added an extension to the original building shortly after its purchase to almost treble its capacity from the original 13-bed size.
Over the next 18 months, Parkside Care will be carrying out an extensive refurbishment project throughout the building to ensure everything is in line with its corporate standards, with a new nurse call system, new lighting and new flooring all due to be installed.
All of the 40 full and part time staff that work at Northlands are remaining in place, and the Parkside management team is open to making further regional acquisitions as and when the right opportunities come along.
Matthew Flinders of RMT Accountants & Business Advisors and Debra Swinburn of Evans & Co advised Jill Lax on the disposal of the Northlands Care Home, while Darrell Francoisy of NatWest Bank and Christopher Welch of Sintons Law Firm worked with Parkside Care on the acquisition.
Jill Lax says: "After running it for more than two decades, Northlands has become far more than just a business to us, and we have made significant financial and emotional investments in creating the kind of supportive environment that residents deserve.
"We had to be certain that we were going to be passing it on to the right sort of operator which would look after the residents and staff as we would wish and keep developing the quality of services that Northlands could offer.
"RMT Accountants quickly identified and engaged with a number of interested parties for us, including several other firms in our sector, and their and Sintons' expert advice ensured that the sale negotiations went extremely smoothly.
"We felt that Parkside was the best fit in terms of their approach to care provision and plans for the future, and I'm confident that Northlands will have a bright future with its new owners."
The Kerr family which owns Parkside Care has been operating care homes since 1988. The business currently employs around 140 people across its four properties, which together have a capacity of 120 beds.
Andrew Kerr, director at Parkside Care, adds: "We pride ourselves on the family-oriented approach that we take to care provision, and on the degree of detailed knowledge that our whole team has about our residents, their personal needs and their families.
"The setting, size and character of Northlands seemed to fit extremely well with our existing strengths and ways of working, and we're planning to make investments in the property wherever we think they are required.
"Parkside has predominantly grown organically over the last nine years, but we always keep an eye out for opportunities to add suitable new properties to the group and will continue to do so as we bed Northlands into our wider operation."
Matthew Flinders, head of marketing and business development at RMT Accountants & Business Advisors, says: "Selling a long-held care home of this type is more than a simple property transaction. We're very pleased to have been able to bring together these two parties and to help secure an agreement which suits everyone involved.
"RMT's expertise and broad contact base in the care home sector allows us to add significant value when brokering transactions of this nature."
Darrell Franciosy, Relationship Director at NatWest Bank, adds: "Parkside Care are a long established operation that have a excellent care ethos, we are delighted to support this acquisition which has aided there portfolio and we are confident of the success of the business moving forward. We wish Andrew and the team all the best and look forward to our continued relationship"
Christopher Welch, Partner in the Company and Commercial team at Sintons, said: "This is the first time that we have worked with Parkside Care and I know that our sector expertise was able to add real value to Parkside in terms of this acquisition.
"Parkside Care remains a true family business and will complement well the business at Northlands. We are delighted to have been able to assist Parkside on this next stage of its development, and we wish Andrew and his team every success with this new venture."