RMT regains North East Corporate Finance Team of the Year title
The Corporate Finance team at RMT Accountants & Business Advisors has been named as the best in the region for the second time in three years.
Having been chosen as Corporate Finance Advisory Team of the Year at the Insider North East Dealmakers Awards in 2012 and shortlisted in 2013, the RMT team beat a shortlist of five industry rivals to pick up the 2014 award in front of an audience of over 400 professional services industry peers at the Marriott Gosforth Park Hotel in Newcastle.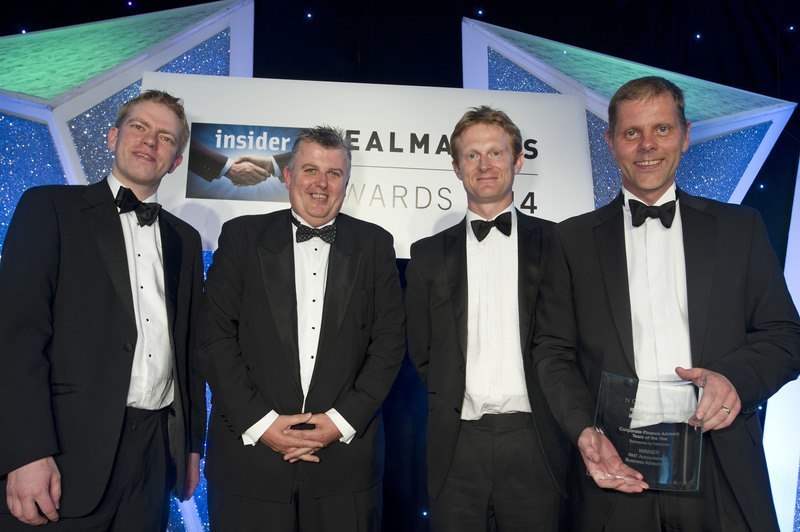 The Dealmaker Awards recognise the achievements of those individuals and firms whose skill, creativity and sheer determination have stood out over the past year.
Led by head of corporate finance, Greg Bolton, RMT's CF team provides the full spectrum of corporate finance services for clients both within and outside the north east, from buying and selling companies and raising finance through to business valuations and transaction support.
Key deals on which it has worked recently include the sale of GB Fuels to Oil NRG Ltd, the acquisition by Tinsley Special Projects Ltd of Tanfield Engineering Systems and the sale of the Gateshead Dispensary Nursing Home (Craigielea) Limited to North East care home operator Solehawk Ltd.
The team works predominantly with owner-managed businesses, and has also helped companies from across the region secure investments from the seven Finance For Business North East funds, as well as from the traditional funding institutions.
Mike Pott MD at RMT says: "Our Corporate Finance team has had an extremely strong year, helping businesses of all sizes and types to achieve their acquisition, disposal and investment ambitions and picking up this honour for the second time in three years is a great recognition of the teams dedication and energy.
"It's also a clear testament to the focus and ambition of the clients with whom we work, who are creating and sustaining employment across the region by taking a proactive approach to their commercial development.
"Our aim is to help clients of all sizes and from all business sectors to achieve what they're looking for in the simplest, most straightforward way possible, and we can call upon colleagues with specialist expertise in every area of finance to help make this happen.
"Our corporate finance division is expanding alongside the rest of the firm, and with the economy continuing to improve, we're striving to achieve even more over the next 12 months."