Fat Hippo Group Steps Into Sunderland With Opening of New £250,000 Bonded Warehouse
A successful North East restaurant group has chosen Sunderland for the launch of its new leisure brand.
The Fat Hippo group has invested over £250,000 in converting a vacant 19th century Grade II-listed building on the city's Fish Quay into the new Bonded Warehouse, a multi-functional venue bringing live music, craft beer and excellent food together in one place.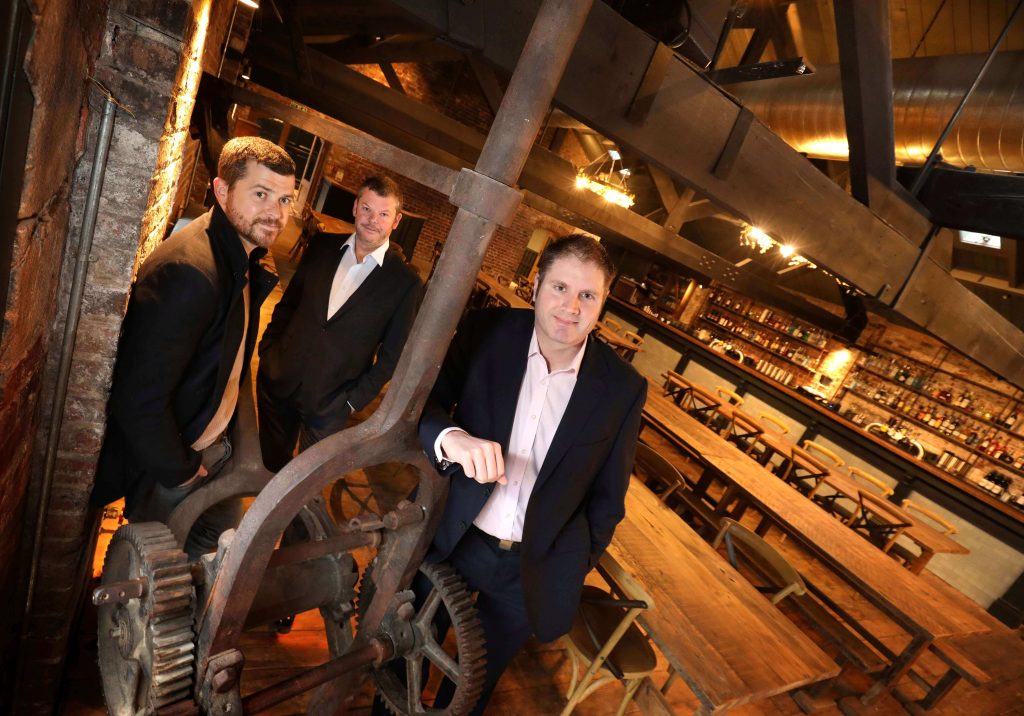 Mike Philips with Matthew Flinders and Paul Gainford RMT
A tap house on the ground floor offering a range of craft beers brewed locally by Allendale Brewery, while the upstairs area, which includes exposed brickwork, original beams and carefully restored original features, is being used for gigs, events and weddings.
Fifteen new jobs have been created with the opening of the Bonded Warehouse, with another ten expected to follow this year as it becomes properly established.
The total number of people employed across the Fat Hippo group has now moved past the 100 mark, and initial plans are now being considered for where further venues under both of its brands might be set up in the future.
The Fat Hippo management team worked with Gosforth-based RMT Accountants and Business Advisors on all aspects of the development of the new Bonded Warehouse, as well as the wider management of its operations.
Fat Hippo was founded in 2010 by managing director Mike Phillips, who opened the company's first restaurant in Jesmond after writing his original business plan for the gourmet burger restaurant while still a student at Northumbria University.
Since then, the firm has opened further Fat Hippos in Newcastle and Durham city centres, with its early adoption of social media helping to build up strong brand awareness and loyalty around the region.
Mike Phillips says: "We felt there was a real opportunity to invest in Sunderland, which is a huge market with a lot of untapped potential, and to be at the forefront of a leisure scene that we think will develop substantially over the next few years.
"The Bonded Warehouse is a destination venue that appeals to a wide range of different audiences at different times of the day and week, and we've had a really encouraging start since our official opening.
"Just as we've successfully taken the Fat Hippo concept to different locations, we're certain that it's a brand that could do very well in other parts of the region and we'll be looking at what options might be available once Sunderland is fully established.
"The RMT team has been instrumental in helping us create the new venue, and there's always been someone on hand to answer any kind of question that we've thrown at them."
Paul Gainford, commercial services director at RMT Accountants, adds: "Fat Hippo has built its reputation on innovation, customer focus and quality, and the Bonded Warehouse is very well set to build on this.
"We work with regional entrepreneurs like Mike in a wide range of sectors and it's great for us to see how their businesses evolve and succeed over time."