Fat Hippo Group's success continues with RMT's ongoing advice
A successful independent North East restaurant group is putting on a show in the heart of London's theatre district with the launch of its first West End venue.
The Fat Hippo Group has opened the doors at a new 100-cover venue on Wardour Street in Soho as part of the latest stage of its continuing growth strategy.
It's the Newcastle-headquartered group's second London location, sitting alongside its Shoreditch premises. After opening five new burger restaurants during 2022, it is aiming to add a further three to its growing portfolio this year.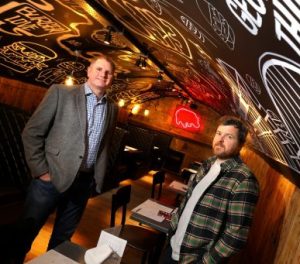 A new restaurant on central Edinburgh's iconic George Street is scheduled to open in the summer, with a further venue in Bath following before the end of the year.
Around 90 new jobs will be created across the new locations this year, pushing the total number of people employed by the group towards the 600 mark, and several more restaurants will follow in 2024.
The Fat Hippo Group management team is continuing to work with Paul Gainford and Julie Cuthbertson (Corporate Finance) of Gosforth-based RMT Accountants and Business Advisors on all aspects of its growth strategy, as well as the wider management of its expanding operations.
Fat Hippo was founded in 2010 by managing director Michael Phillips, who opened the company's first restaurant in Jesmond after writing his original business plan while still a student at Northumbria University.
Its Cardiff, Birmingham, Glasgow, York and Shoreditch restaurants all opened last year, and sit alongside venues in Newcastle, Durham, Leeds, Liverpool and Nottingham city centres.
It also has four concession kiosks within premium bowling venue Lane 7's Sheffield, Manchester, Bristol and Edinburgh premises. A further concession can be found in the unique Kommune urban foodhall in Sheffield and a street food fleet that travels across the UK.
Fat Hippo offers a range of signature beef and chicken burgers, with a growing number of vegan options now making up a significant proportion of its offering.
Michael Phillips says: "Being in central London is an exciting step for the Fat Hippo brand, and the reception we've had has been everything we could have asked for.
"There's obviously a lot of competition in this part of the capital, but we're confident that the quality of our menu, the breadth of options available to customers across a wide range of demographics and the competitive pricing strategy we offer will enable our Soho restaurant to compete and succeed.
"After a very successful 2022, we're now delivering the next phase of a growth strategy that will see us make another step change in our nationwide operations.
"Our focus remains very much on controlled growth and we're also very selective in terms of the cities and spaces we consider for our new restaurants, rather than simply opening anywhere and everywhere.
"Taking our workforce towards 600 people by the end of the year is a big achievement for a business that started with a single small venue in North East England, but we know that there's a lot more potential in the brand to be realised in 2024 and beyond.
"RMT's advice and guidance will be central to how we do this, and their strategic input remains invaluable to the development and execution of our growth plans."
Paul Gainford, director of commercial services at RMT Accountants, adds: "Fat Hippo has become a successful national brand by staying true to its core concept, adapting to new market opportunities and securing high quality locations which fit with the character of the brand.
"The progress that the business has made in recent challenging conditions is very impressive and we're proud to be a long-term part of its continuing evolution."