Hanover Dairies Agrees NatWest Finance Restructure Deal To Support Investment Plans
The North East's leading independent milk delivery service is planning further investment in its business and services after securing a new refinancing agreement with NatWest.
Hanover Dairies delivers a wide range of milk, eggs and non-dairy products to customers across the North East, North West and Southern regions from a network of 12 depots across the country.
The Blaydon-headquartered firm has promoted its environmentally friendly glass bottle milk sales and wants to further make the consumer aware of the product within its trading areas.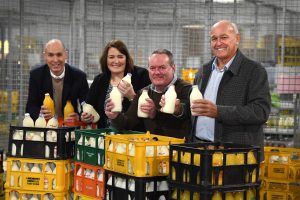 Its long-term environmental focus has seen the company preventing over 18 million plastic bottles potentially ending up in oceans or landfill in the past few years.
Julie Cuthbertson, Michael Cantwell and Anthony Andreasen of RMT Accountants & Business Advisors worked with the Hanover Dairies management team to identify the best available refinancing options and are continuing to work on its development and implementation of its investment plans.
Founded in 1976 by Trevor Hanover with a single milk round, Hanover Dairies now operates more than 200 doorstep rounds across the country, has over 140,000 customers on its books, and employs more than 100 people and supplies to 140 franchisee and independent milkmen.
Alongside domestic sales, Hanover Dairies also works with a number of local authorities on school milk contracts and supplies to over 1,000 businesses.
Managing Director Tony Baldwin says: "We have a passion and drive to maintain and grow the tradition of doorstep deliveries, to continue to provide the very best service possible and to promote the message of a product that can simply and easily help reduce the plastic pollution issue that we now all face.
"We've never stopped making glass bottle deliveries, and it's always made clear environmental sense to do so, but over the last couple of years, we've seen a huge surge in demand from both existing and new customers.
"We're now maximising our efforts towards making everyone aware that glass bottle deliveries are available from us, as part of a wider environmental focus that's been a long-term part of our business strategy.
"Covid also saw us make substantial technology and payment systems investments that are the basis of everything we do and we will continue to do this to ensure we can provide the reliable, efficient service that our customers expect.
"Positive personal relationships are absolutely central to the way we work.  From our first meeting, NatWest came across as people you'd want to work with, and our refinancing agreement gives us the flexibility to invest where we think we'll get the best returns, protect jobs and promote employment growth.
"The RMT team's strategy advice has long been central to our management of the business, and their market knowledge and guidance has been invaluable in reaching this new agreement."
Dominic Duke, senior relationship manager at NatWest, adds: "It's been fantastic to work with Trevor, Tony and the Hanover Dairies team to create a flexible refinancing package that will support the business's investment ambitions, as well as its long-term environmental focus.  I look forward to continuing our relationship and seeing Hanover Dairies continue with its plans."
Julie Cuthbertson, corporate finance manager at RMT Accountants & Business Advisors, says: "Hanover Dairies has a proven business model that is succeeding across its distribution network and now has the resources to promote its business model and environmental focus further.
"We identified NatWest as the right flexible funding partner for Hanover to work with on executing their investment plans and we're very pleased to have helped the two parties reach this agreement."