INVESTMENT HELPS TRAINING FIRM BUILD CAPACITY
A successful North East HR and training consultancy is aiming to double its workforce by the end of next year as it implements development plans designed to further enhance its nationwide client base.
Building Capacity Ltd delivers accredited competency-based training programmes to clients as far afield as Aberdeenshire and Essex, with each course tailored to individual clients' requirements.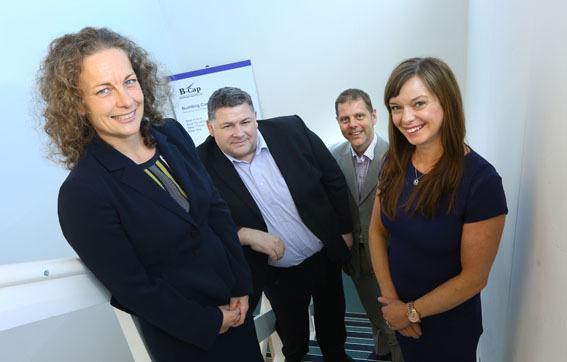 The Wallsend-headquartered firm work in a wide range of disciplines, including both individual and corporate learning and development, change and transformational management, staff training and accreditation, and the design and implementation of in-house training programmes.
Its bespoke FLEX programme supports organisational, team and individual development via an extensive range of programmes that have been specifically designed to develop new skills, knowledge and competencies
And it has now secured a five-figure investment from the Finance For Business North East Growth Fund that is administered by regional fund management firm NEL Fund Managers to help provide the operational capacity it required to meet growing market demand.
RMT Accountants & Business Advisors, who have worked with Building Capacity since its inception in 2010, supported the firm's management team through the investment process.
Building Capacity operates across a number of market sectors, including healthcare, education, manufacturing, utilities and finance, but is aiming to especially increasing its focus on the SME market as part of the next stage of its development.
A dozen-strong team of training, recruitment and human resource professionals is currently employed by the business, with the same number of jobs expected to be created over the next 18 months.
Vanessa Jones, director of partnership at Building Capacity, says: "Taking a 'one size fits all' approach to training isn't good enough anymore – companies rightly demand bespoke support which fits their particular needs, and the FLEX programme that we offer has been proven time and again to provide the right solution.
"Wider and different training needs often become apparent from the initial discussions that we have with clients, giving them the chance to get a more comprehensive solution to their needs and us the opportunity to build deeper, longer-term relationships with them.
"We already work right across the UK, but know that greater demand is there for the services we provided, and having the resources available to capitalise on this demand provided a clear imperative for bringing in outside investment.
"The NEL and RMT teams were as excited as we were about the prospects for the business, and were both very focused and forward-thinking when it came to putting everything together."
Jane Siddle, investment executive at NEL Fund Managers, adds: "Building Capacity has developed a successful way of working that has already secured them a strong position in the training market, and they have had the vision to realise how much more they could do with the right resources behind them."
Greg Bolton, head of corporate finance at RMT Accountants & Business Advisors, says: "We've worked closely with the Building Capacity management team over several years to help build up the business's commercial momentum, and having introduced them to NEL as a regional source of suitable business investment, we're extremely pleased to see the firm going from strength to strength."
Aimed at regional businesses which are at a development and growth stage, the Growth Fund forms part of the wider Finance for Business North East Fund.
Managed by North East Finance, it will see £125m of investment capital injected into the region by the European Investment Bank and the European Regional Development Fund 2007-13 over a five year period.
NEL is looking to make around 130 investments over the five-year life span of the Growth Fund, and is actively looking to speak to ambitious north east companies with robust business plans.
For more information about NEL's investment criteria, visit www.nel.co.uk or contact the investment team on 0845 111 1850.
The ERDF 2007-13 programme is bringing over £300m into North East England to support innovation, enterprise and business support. It will help create and safeguard 28,000 new jobs, start 3,000 new businesses and increase the region's productivity by £1.1bn per annum.