PREPARING YOUR BUSINESS FOR SALE
By Michael Cantwell, head of corporate finance at RMT Accountants & Business Advisors Ltd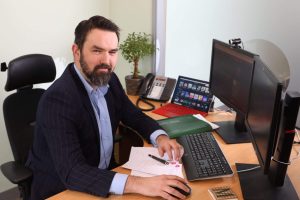 The last two years have been the catalyst for change on a wide range of different fronts within the commercial world.
Without the pandemic, there's no way, for example, we would have seen remote and flexible working being such a common occurrence as it is today, as without being forced to go down this route, most businesses wouldn't have been willing to take the risk of finding out if it worked for them and their staff.
There's also been a surge in the number of people deciding to go into business for themselves, with more than 4,200 new companies set up in the first quarter of 2022 alone.
These new entrepreneurs may have had, perhaps for the first time, the opportunity to flesh out a business idea while on furlough, or they may now feel that, after everything that we've all been through, they should simply seize the day.
At the other end of the business management process, we're finding that a growing number of business owners are changing their plans around selling it on.
Before the pandemic, many entrepreneurs would have been content with continuing to run their businesses up to a point in the far-off future when they would consider selling or passing them on.
But whether through their personal well-being, a change in priorities or gaining a new perspective on the world, we're seeing more of them bring these succession plans forward with a view to them being able to enjoy the fruits of their labours sooner rather than later.
If you're in this position, there are a number of issues to think about to make sure you get full value for your assets and can dispose of it in a way that suits your needs.
Selling a business is usually best approached as a long-term project, although in the present climate, the process has been condensed by seeking out the right kind of expert advice.
First of all, consider how you want to leave the business – by making a clean break, as would seem likely in this situation, or having an agreed handover period to ensure a smooth transition to the new owners?
The latter approach may realise you more capital in the longer term, but may not fit with your present needs.
Your next consideration is who might buy it from you?  Your management team might be your best initial port of call, especially as it could cause bad feeling among key staff members if they don't get an early opportunity to express their interest in the business.
Alongside this option, there might be rival businesses in your sector that are looking for acquisitions as part of their growth strategy, while your professional advisors might also have contacts who they know are on the lookout for a new challenge and could be a good match for you and your business.
When any discussions begin, showing that you've successfully achieved solid sales and profits in the past is clearly going to be important, but it's equally important to be able to show that you've got the structures and people in place to carry this on in the future.
Potential buyers are going to be interested in three main areas – your client list, your brand/reputation and your infrastructure, all of which will combine towards creating sustainable value in your business, so you should be doing all you can to gather robust information in each of these areas as early as you can.
We're clearly still in a volatile economic situation, but that doesn't mean there won't still be buyers out there for quality businesses, and getting robust, independent advice on your disposal plans will help you get everything you need in place to maximise your chances of achieving your sale objectives.
For further information on managing all aspects of business disposals and acquisitions, please contact Michael Cantwell at RMT Accountants & Business Advisors on 0191 256 9500 or via michael.cantwell@r-m-t.co.uk