RMT Accountants' Advice Helps Global Tech Consultancy Credera Bring 200 New Jobs To Newcastle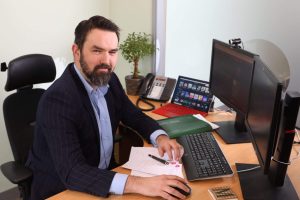 RMT Accountants & Business Advisors has worked closely with global technology and management consultancy Credera to help them choose Newcastle as the location for their UK expansion and implement plans to create 200 high-tech jobs in the North East.
Credera has worked with the Gosforth-based firm to secure a £1 million Inward Investment Grant from the North of Tyne Combined Authority, which will support its move to The Catalyst building within the landmark Newcastle Helix hybrid city quarter later this year.
The Dallas-headquartered boutique consulting firm, which focuses on strategy, innovation, data and technology, will create around 160 highly skilled positions for programme managers, consultants and engineers with expertise in cloud, data, and software engineering in the first instance, with a further 40 new jobs to follow.
Michael Cantwell and Julie Cuthbertson at RMT Accountants & Business Advisors worked with Credera's UK management team to develop and refine its Inward Investment Grant application and lead the application process.
RMT was introduced to Credera by Invest Newcastle, part of NewcastleGateshead Initiative (NGI), which has been working Credera since last autumn on establishing a presence in the region, as part of its drive towards enhancing Newcastle's position as a leading UK tech hub.
Credera is part of the worldwide Omnicom Precision Marketing Group and has a growing global team of talented consultants in the US, UK, India and Singapore which is driving impact for companies around the world.
Michael Cantwell, head of corporate finance at RMT Accountants & Business Advisors, says: "Newcastle is increasingly recognised as one of the UK's leading hubs for the knowledge economy and attracting such a well-regarded technology firm as Credera to the region is further evidence of this growing reputation.
"It's been a pleasure to work with the Credera, Invest Newcastle and North of Tyne Combined Authority teams on this project and to be seeing such a positive outcome resulting from everyone's commitment to it over many months."
Chris Dean, Credera's CEO in the UK, adds: "Launching our Newcastle office marks the start of another exciting chapter in the Credera story. We believe that the city's growing tech scene will open the door to new and exciting opportunities for our people and clients alike, and we look forward to welcoming new and diverse perspectives to our community."
Ewan Miller, Credera Managing Director and Newcastle Market Lead, says: "The RMT team's expert advice and guidance has been central in enabling this project to reach a successful conclusion and we're very excited to be establishing ourselves in this vibrant and exciting city."
Jen Hartley, Director of Invest Newcastle, adds: "We're absolutely delighted to welcome Credera to the region and to Newcastle Helix where they'll be part of a vibrant eco system of innovation and data.
"Credera's arrival in the region is significant in terms of our region's reputation as a home of choice for digital and tech sector businesses and is testament to the quality reputation the region has established worldwide which will be further boosted by the addition of Credera."
RMT Accountants & Business Advisors provides the full range of financial and business advisory services through its corporate finance, specialist tax, accountancy, healthcare, information technology and recovery & insolvency teams, and works with firms of all sizes both within and outside the North East.
For further information, please call 0191 256 9500 or visit www.r-m-t.co.uk