RMT welcome new recruits….
RMT Accountants & Business Advisors has taken on ten new recruits across the business service and outsourcing sectors.
Founded over 60 years ago, it works with UK companies of all sizes both within and outside the North East, as well as a range of international clients.
RMT provides the full range of financial and business advisory services through its accountancy, specialist tax, medical and healthcare, corporate finance and recovery & insolvency teams.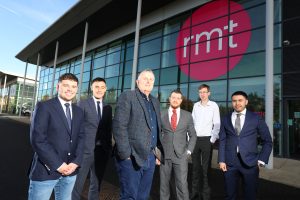 James Newcombe, Jack Plummer, Nathan Atkinson, Ben Gibbin and Jay Wong will support RMT's business services division whilst Jessica Allen, Kerry Slater, Tyler Summers, Jaspreet Lally and Sarah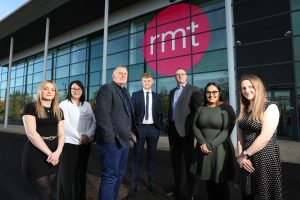 Middleton are now part of the expanding Outsourcing team.
Jaspreet, who is Head of Outsourcing, holds a Graduate Diploma in accounting, business & finance from Newcastle University says: "I am really enjoying being part of the outsourcing team and the experience has allowed me to further develop numerous skills.  It's been great to get involved and help a wide variety of businesses across the UK with their finance processes and management reporting."
The new recruits bring with them knowledge and experience, strengthening already strong teams, and we are still looking to recruit as the business continues to grow.
Stephen Slater and Paul Gainford, Directors of Commercial Services, add: "The business has been performing extremely well throughout the year and we now have additional outsourcing resources in place to support growth over the forthcoming year and beyond."