RMT help Airowear find new stablemate
NORTHUMBERLAND equestrian safety wear company Airowear has joined forces with Welsh riding hat manufacturer Charles Owen in a strategic move to grow the business.
Airowear, which was set up in Aydon in Northumberland in 1986, will retain its name and branding in a deal in which the two businesses will work together to create the next generation of safety wear for horse riders.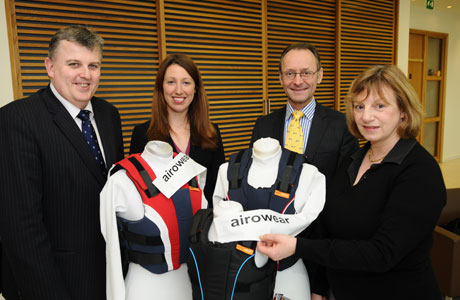 Airowear is best known for making body protectors to protect riders in the event of a fall and Charles Owen, based in Wrexham, is a global leader in riding hat design.
Airowear managing director Lucy Carr-Seaman said: "This is an exciting time for Airowear and the industry as a whole.

"Joining the design expertise and resources provides us with the opportunity to focus on developing new and innovative safety products for the future.

The present high standards of production, distribution and customer service will be maintained."
Airowear employs 20 people in Northumberland and also has offices in Europe, Asia and Australia.
Around 50% of its products are exported, with Scandinavia, Germany, Japan and Australia among its major markets.
Charles Owen, which has been making riding hats for more than 100 years, also exports worldwide.
Managing director Roy Burek said: "We are very excited to join with Airowear in developing the next generation of world-leading and technically advanced designs."
Airowear worked with Stephen Slater and Graham Brown from Newcastle accountancy and business advisory group RMT, and Hugh Welch of law firm Muckle LLP to secure the deal.
RMT director Stephen Slater, said: "We've been working with Airowear for some time to establish a suitable partner which matched its ambitious plans for the future.

"We think Charles Owen is an excellent fit and gives the Airowear brand a huge opportunity to expand into other parts of the world, particularly in the US, where Charles Owen has a significant presence."
Hugh Welch, senior partner at Muckle LLP, said: "Airowear is a fantastic example of a thriving rural business that has been quietly but very successfully developed by Ms Carr-Seaman over many years.
"We have been involved as legal advisers from the outset and it's great to have had a chance to play a part in the next stage of its growth."