Solutions for all business fleet needs, from supplying one vehicle to providing a full management system to a fleet of thousands, can be provided, with a range of funding methods available to help meet businesses' specific needs.
Contract Hire
Instead of buying vehicles outright, the cost of new vehicles is spread over set periods of time. Mileages can be pooled if required. There are no ownership issues to manage, while fixed monthly payments make budgeting simple.
For a set monthly payment, servicing, tyres and the tax can also be taken care of in your finance package, and at the end of an agreement, vehicles are simply handed back or contract extensions negotiated.
Business contract purchase / Lease purchase
Fixed monthly payments based on a fixed contract term and an anticipated mileage.
Hire Purchase
Hire Purchase solutions can be tailored to suits specific needs through options such as a flexible deposit, fixed payments and a final lump sum.
Finance Lease
Rental payments can be tailored to match businesses' cash flow, making budgeting much easier and reducing upfront costs. Fixed or variable interest options are available where, you pay VAT on the rental payments, rather than on a purchase price, and payments can normally be offset against taxable profit.
Outright Purchase
Our partners have access to the best manufacturer's discounts in the UK and can source vehicles well below main dealer prices.
Salary Sacrifice Scheme
Salary sacrifice allows employees to give up part of their salary in return for their employer providing them with a non-cash benefit, such as a car. This 'sacrificed' part of the gross salary for a new car will not be subject to Income tax or National Insurance, resulting in less being paid for these by the employee and lower NICs paid by the employer.
Salary sacrifice can be used to help attract, retain and motivate employees, and full management and administrative support on such options can be provided by our team.
Personal Lease / PCP
Personal leasing offers drivers who want to own their car the chance to access a company car style experience, but without the cost of a taxable benefit.
Personal Contract Hire allows the driver to make fixed monthly payments while personal leasing can be a good option for staff who have chosen to take a car allowance, or for those who are not eligible for a company car.
Refinancing
Refinancing solutions can release equity from an existing fleet with no disruption to current vehicles, with the money released available to go back into the company's reserves.
Fixed monthly payments aid financial planning, while you can replace 'old for new' at the end of the agreement.
Key Contacts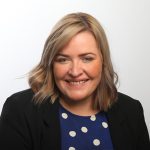 Julie Cuthbertson
Corporate Finance Manager
0191 256 9500
---