Corporate insolvency occurs when a company's liabilities and debts outweigh the value of their assets, and this typically leads to the company being unable to meet debt repayment obligations.
A corporate insolvency situation does not automatically result in a business facing liquidation, and there are other options which may be more suitable. Many businesses recover from insolvency and the process itself is often a catalyst for change. At RMT, our corporate insolvency practitioners always seek to achieve the survival of a company, to protect the business, its employees, its suppliers and customers.
Only when all possible restructuring options have been exhausted will our corporate insolvency team recommend a formal insolvency process. In certain instances, where the financial pressure is too great, a Company Voluntary Arrangement, Administration or Liquidation can be the only way to protect directors, secured lenders and suppliers from additional risk or financial loss.
Our team of expert corporate insolvency practitioners are available to provide advice and support to any director or advisor of a company experiencing financial difficulty.
Initial meetings are Free of Charge, so that we can establish the reasons for the problems being experienced by the business, without subjecting it to additional financial burden. We will work with you to identify issues and provide clear and practical advice on the options available.
However, in certain cases a rescue is not possible, and other options may be more suitable depending on the circumstances. If a formal insolvency is the only way to protect all stakeholders from increased risk, our Licensed Insolvency Practitioners can act quickly to place a company into the relevant procedure to safeguard the business and its assets, ensuring that the maximum return to creditors is achieved.  The different corporate insolvency options include:
A moratorium is granted once a company has entered administration, which halts any legal actions being taken by creditors, and provides the company with the opportunity to be rescued before entering liquidation.
As well as rescuing a company, administration is likely to offer better return to creditors than other insolvency options.
Company Voluntary Arrangement (CVA)
A CVA is a legally binding payment plan, whereby an indebted company and its creditors will agree on a lower monthly repayment plan. If debt levels are high and a company has a number of creditors, then a Company Voluntary Arrangement (CVA) may be the most appropriate insolvency option.
Find out more about how our corporate insolvency practitioners can support your company through administration and CVA here.
Liquidation
If a company cannot be rescued, then going into liquidation may be the best option, whereby liquidation is a procedure in which a company's assets are placed under the control of a liquidator. All assets are identified, valued, and then sold with the proceeds distributed to creditors. The company will cease to exist as a legal entity.
Find out how our team can support your company through liquidation.
Whilst high-profile corporate insolvency cases typically involve publicly traded companies, private limited company insolvency is also common.
If your company is experiencing financial difficulty, our team of corporate insolvency practitioners can support you through this difficult situation and find the best solution for your company. Get in touch with us today to book your free advice session.
Key Contacts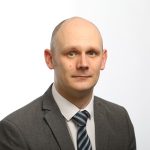 Chris Ferguson
Director of Recovery and Restructuring
0191 256 9500
---