Often concerns that you have about the future of your business may be solved without the need for insolvency proceedings.
Our vast experience in this field could help you to realise that there are ways to solve cashflow issues and creditor pressure, without the need for a formal insolvency.
We offer an initial free advice session to allow you to discuss issues with your company in a confidential and professional environment to establish how we can assist you and your business.
You will find we are reliable, friendly and approachable. You can depend on us to be there for you, so before its too late pick up the phone.
Key Contacts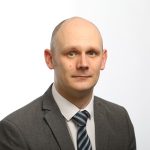 Chris Ferguson
Director of Recovery and Restructuring
0191 256 9500
---